We launched the NYC version of the book which includes newly discovered photos, (with my snazzy Wigstock image taken with the fabulous Candis Cayne)  and previewed the stage play with my opening monologue, featuring actor JD Cerna. Sold out room, enthusiastic crowd at BGSQD…everyone's very grateful!
Details and new materials are in the works…thank you as always for your support! xxM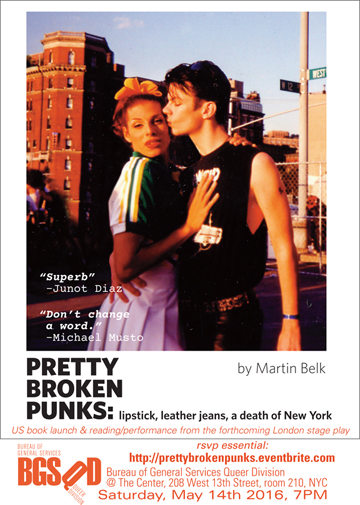 Pretty Broken Punks: Official NYC & USA version book launch + opening monologue to stage play preview at BGSQD, West 13th Street
14 May 2016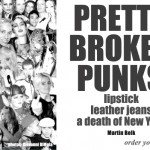 Retailer Update: Our distribution is getting underway. At the moment PRETTY BROKEN PUNKS is a US import – so stay tuned!
Online Special Offer! Order Yours Here
London: Gay's the Word, 66 Marchmont Street London WC1N 1AB
New York: The Bureau of General Services—Queer Division, Strange Loop Gallery, 27 Orchard Street (between Canal and Hester) New York, NY 10002
a note about Amazon: the books are available through Amazon – from the publisher. We have not yet formally listed with Amazon as a book sales agent.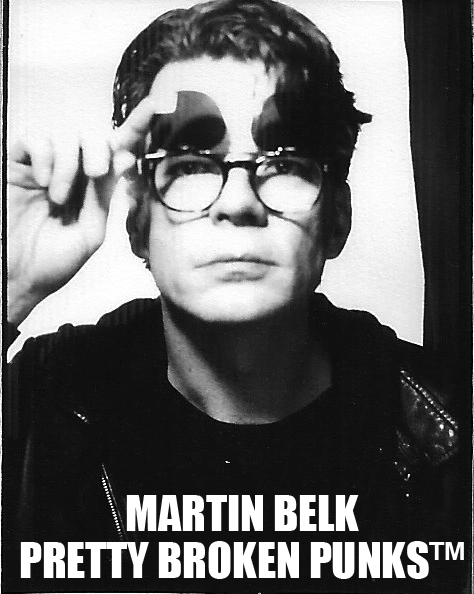 "Full of great memories, names, observations. It brought it all back. Don't change a word…" —MICHAEL MUSTO, The Village Voice
"A lithely written, honest and perceptive account of a unique time." –IAIN BANKS 30 May 2012, author: Stonemouth, & The Wasp Factory
"A superb memoir about coming of age in the bright haze of NYC's demimonde . . . Belk writes with great candor and intelligence about his time and one cannot help but admire the searching young man who emerges in these pages." –JUNOT DIAZ . 3 May 2011, Pulitzer Prize Winner, author of The Brief . Wondrous Life of Oscar Wao & Drown
"Belk reveals a Beaudelarian sense of the city and a profound and burgeoning poetic power and sensibility. He may not know this–I'm telling him. Pretty? Perhaps. Broken? No more. Poet? Indeed. We will read much more from this writer." –LORD GAWAIN DOUGLAS (great-nephew of Lord Alfred Douglas, Oscar Wilde's 'Bosie') 6 June 2012, author of Fortuna
Special Offer! Order Yours Here
Special Offer! Order Yours Here: click here to purchase with special advance discount
PRETTY BROKEN PUNKS: lipstick, leather jeans, a death of New York by Martin Belk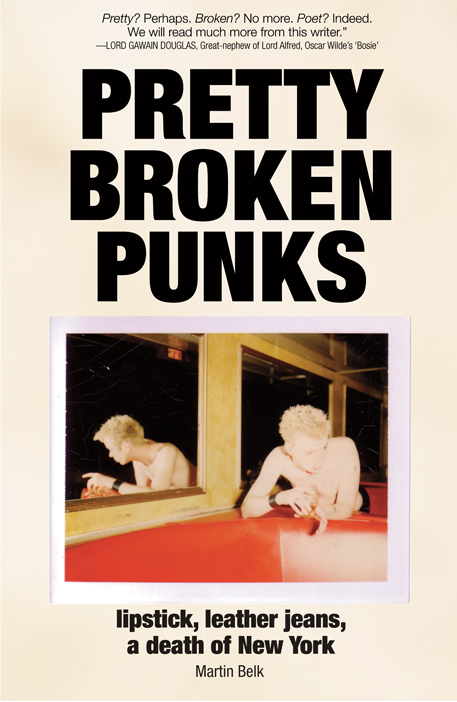 book – online monologues – stage play – recorded version – Kindle / e-readers New Narrative Nonfiction – life's too short for lies™